Tricia & The Toonies ENVIRO-Shows
The Toonies ENVIRO-Show has reached thousands of students during their annual Toonies ENVIRO-Tours and tens of thousands during their runs at state and county fairs.  Students laugh and sing along while learning more about resources, recycling and caring for the environment. Tricia wrote and produced an environmental musical for the Mall of America, where she directed and starred with Sesame Street's ELMO™. That's where the idea for bringing environmental awareness and stewardship to the young ones got started. Tricia created an engaging 45 minute scenario, and along with colorful puppet characters, they capture students leaving them more aware  of the difference their actions make and inspired to make good choices. 
There are TWO VARIATIONS of The ENVIRO-Show for schools
K-2nd/3rd grade
K-4/5th combined (for smaller schools)
"We support The ENVIRO-Show … it provides elementary age youth with a fun way to learn about the environment… kids get involved and focus on taking ACTION".
"Outstanding! What a great way to combine learning and entertainment with a lasting message!"
"We love all the audience participation through movement. The Toonies are great at engaging the students in each performance."
The Toonies ENVIRO
Family-Fun Show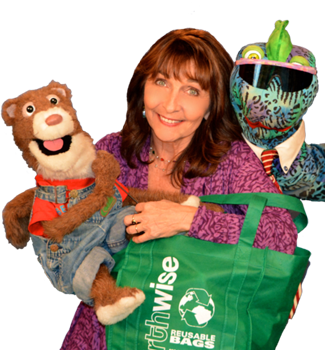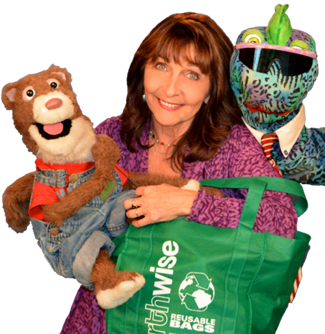 "The Toonies ENVIRO-Show has a powerful way of entertaining and EDUCATING. Delightful and EFFECTIVE".
The Toonies ENVIRO-Family Show brings your community together in environmental awareness, teamwork, stewardship and FUN! The Toonies ENVIRO-Family Show focuses on the many ways of reducing the amount of trash we generate (rethink, reuse, recycle, etc.), along with GENERAL environmental messages. The Toonies can tailor shows to deliver your specific and important messages at City Festivals, State & County Fairs, Concerts-in-the-Park, Family Events, and Celebrations. Families discover that working together is fun and that their actions can make all the difference!
Invite The Toonies to bring their unique combination of music and interactive theatre to the families in your community. The Toonies ENVIRO-Shows are often sponsored by environmental education funds. Contact your local city, county or state agency and share our website with them. Let them know that this is a tried and true vehicle to spread  important ENVIRO-information! Environmental awareness, action and fun abound as your community is UPDATED, EDUCATED and ENTERTAINED!!fairs, festivals, school presentations, promotions and GREEN events!
The Toonies' greatest joy is contributing to the positive growth and development of today's children. This is evident in their nationally acclaimed CDs, fabulous DVD and in each and every one of their delightful live performances.
"Wonderful … I couldn't have been more pleased. The TOONIES have a magical way of creating that place where the kids believe they make a difference."
"High-energy … Outstanding … SECOND TO NONE!"
"The ENVIRO-Show is TERRIFIC … and a LEGITIMATE EXPENSE to promote recycling AND general environmental messages!"
Ready to Book the Show?
Please contact us with any questions you may have about the show!