Bring your community together in environmental awareness, teamwork and FUN this year! The basic ENVIRO-Show focuses on the many ways of reducing the amount of trash we generate (rethink, reuse, recycle, etc.), along with GENERAL environmental messages. Families see that their action can make all the difference!  We can tailor shows to deliver YOUR specific ENVIRO-messages to YOUR community. GREAT for fairs, festivals, school presentations, promotions and GREEN events!
"We support The ENVIRO-Show … it provides elementary age youth with a fun way to learn about the environment… kids get involved and focus on taking ACTION".
There is a high level of interest in educating today's youth regarding vital environmental issues. Tricia & The Toonies perform a highly effective program in schools and communities with themes focusing on reducing, reusing, recycling, pollution prevention, natural resource conservation and more.
Tricia & The Toonies have performed in hundreds of schools and received thousands of rave reviews from students, teachers and parents alike. Due to excellent evaluations each year, these teachers, principals and students and parents feel that more organizations who care about our environment should know about our services. These interactive presentations give the young ones an up-close forum where they become clear of the difference EVERYONE can make. The well-known phrase, "You're either part of the solution or your part of the problem", is delivered in an entertaining yet direct fashion.
Some of the puppet characters are excellent role models as they demonstrate a variety of environmental practices. Other puppets throw litter on the ground, put recyclables in the trash rather than the recycle bin or know nothing about reusing and reducing trash. The students are always anxious to guide these characters and share what they know. Together with Tricia, they teach these puppets, reinforcing the power of taking action and teamwork.
Many schools, community organizations and corporations have written letters of praise and recommendation. These references are available for your review and further consideration.
The Toonies can also tailor any presentation around your particular message.
Perhaps you'd like to sponsor this educational and fun-filled musical in your community and/or school district. In doing so, you are certain to be recognized once again as an environmental leader. Together we make the difference.
"The Toonies' greatest joy is contributing to the positive growth  development and  of today's children and their families. This is evident in their nationally acclaimed cassette tape, fabulous new video and in each and every one of their delightful live performances."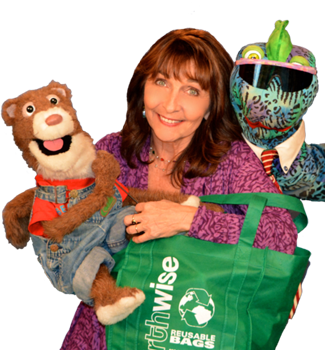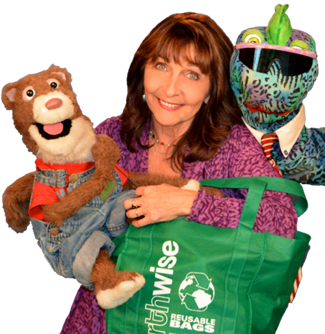 The Toonies ENVIRO-Show – 4 variations for 4 different audience types:
K-2nd/3rd grade
3rd – 5th grade

K-5th combined (great for smaller schools)
Family ENVIRO-Show (great for all family-type events)
City Festivals, State & County Fairs, 'Music-in-the-Park', School Tours, Family Nights, Promotions, etc. are all great opportunities to invite The Toonies as they bring their unique combination of music and educational theatre to the families in your community.
If you have particular information that you need your area families to know, The Toonies ENVIRO-Show is the perfect vehicle to spread that important environmental information as well! Handouts too! Environmental awareness, action and fun abound as your community is UPDATED, EDUCATED and ENTERTAINED!!
THE ENVIRO-SHOW CAN INCLUDE:
SHOP SMART – Please, PRE-cycle! REDUCE IT! – Junk mail campaigns
RECYCLE IT! – paper; school & office
REUSE IT! – Easy & FUN!
WHY COMPOST? – Cool school projects
TREES, TREES, TREES
HHW – Poison Trash from your Home
WATER QUALITY & CONSERVATION …and more!
"The Toonies ENVIRO-Show has a powerful way of entertaining and EDUCATING. Delightful and EFFECTIVE".
"The ENVIRO-Show is TERRIFIC … and a LEGITIMATE EXPENSE to promote recycling AND general environmental messages!"
"Wonderful … I couldn't have been more pleased. The TOONIES have a magical way of creating that place where the kids believe they make a difference".
Ready to Book the Show?
Please contact us with any questions you may have about the show!