Tricia, Pete, and their very funny puppets captivate family audiences from the first roar of belly laughter through to their last delightful song. Add LOTS of audience participation and volunteer opportunities and you have everyone engaged in these uplifting and fast-paced musical comedies. The Toonies feature their original music from their nationally reviewed CD, Faces & highly acclaimed DVD, The Toonies' Valentine Adventure. With joy and laughter abounding, there is always "something fun for everyone"
All-inclusive shows use state-of-the-art 'BOSE' sound system, keyboards, guitar, banjo and more. Pete & Tricia have been entertaining adult and family audiences with everyone's favorite mix of good-time music for years and loving every minute of it!
"Thanks for making our department's family event a HUGE success!"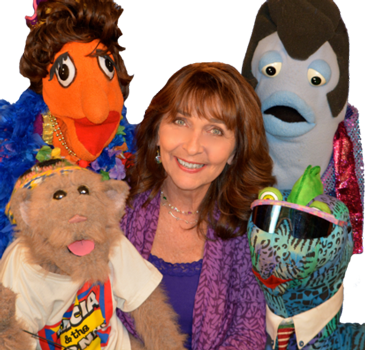 "Two Thumbs up … Way up!"
"The Toonies create a terrific response from all ages! Very PROFESSIONAL and TALENTED … Super puppets!"
"FABULOUS is right! Kids and parents alike were involved, dancing and having FUN! Tricia is REALLY GREAT to work with!"
Ready to Book the Show?
Please contact us with any questions you may have about the show!